My favorite color is red. Red represents passion, fire, desire, energy, and confidence. The only problem is that red does not go well with my medium brown Southeast Asian skin color. It amplifies the dusky shadow of my skin more than usual, so everyone says. Since I was a teenager, I had committed to a mission to find the newest and most effective skin whitening treatment – whether based on science or magic. Nothing is stopping me from wearing that little red dress someday.
In my early teenage years, I became increasingly aware of the need to take care of my skin. Just the basics – zits that seemed to appear whenever a special occasion was on the calendar, rough patches of skin that required some heavy-lifting exfoliation with pumice stone as my weapon of choice, and the darkness of color that enrobed my entire body.
There was no Google to help me with my research on ingredients, treatments, or products. No Amazon to give product recommendations based on my special needs. At the time, we had an open, wet market that sold knock-off products from contiguous countries known for their exotic healing balms and magic oils.
On occasional trips to this market, my mom would buy a special multi-purpose kaolin-based face cream that guaranteed a clear, porcelain face reminiscent of the Japanese kabuki dolls. One jar was shared among the three of us – my mom, my sister, and myself. We Filipinos love this stuff – literally anything that whitens our skin. Because white skin reflects good hygiene, projects the standard of beauty, and classifies one's wealth and standing in society.
My high school graduation was supposed to be a huge party. We were excited to dress up underneath our togas and throw away our conservative Catholic school uniforms. Most importantly, we would be allowed to wear makeup. But unlike today's YouTube, TikTok, and Instagram, where everyone can get free tutorials on makeup applications, my generation had to contend with what we saw on television and in movies and hope to replicate the looks based on vague memory.
I remember rummaging through my mom's purse and drawers to gather all the makeup I could find. There they were – a liquid foundation and some sort of a pressed powder that required a wet sponge to change my face a hundred times lighter and whiter – a look that could scare a ghost. My eyeshadow was a shade of blue and pink, the trending color of my time. My lips were red, and so was my dress underneath the toga.
Growing up, I hated makeup because of how ridiculous it made me look: face so white but neck so brown, bubble gum blue and pink colors so bright on my dark skin, and super red lips that screamed: "look at me!". I opted for a natural no-makeup look instead, even before this trend was invented just because the color cosmetics of my time were not ready for someone like me.
When I migrated to California in my early 20s, I looked for modern and alternative options that suit my style and preference. As a new entrant to the workforce in Silicon Valley, working for a high-tech start-up, I thought a more polished made-up look would help me portray femininity and likability. So on my third month's paycheck, I went to Walmart to splurge on skincare and makeup. I found a popular brand's eyeshadow palette recommended for blue, green, or brown eyes. I have dark eyes, not quite brown. Hmmm. Moving on to the foundation section: ivory, pearl, bluff, beige. Oh well. Not so much to see there.
There are many different ways to be beautiful. Diversity is one of them. Diversity drives empathy, inclusion, belongingness, and creativity. The lack of suitable choices aligned with my values and character made me feel discarded, unimportant, and powerless. That I do not belong or do not matter. That I am expected to accept the available colors that brands are pushing. Take it or leave it. Like it was my fault to be born with my color, gender, and ethnicity.
Today I am proud of the person I have become. I am confident in my own skin, accepting my flaws and imperfections as an integral part of developing my sense of the world, character, and philosophy. But I don't want the next generations to go through the same dilemma because, as an advanced society, we have the technology and the empowerment to address the issues surrounding inclusivity and diversity in beauty. Today I'm making a stand and demanding brands to be more conscious and diligent about offering products that have skin shade ranges for people of color, are gender-neutral, and span across generations.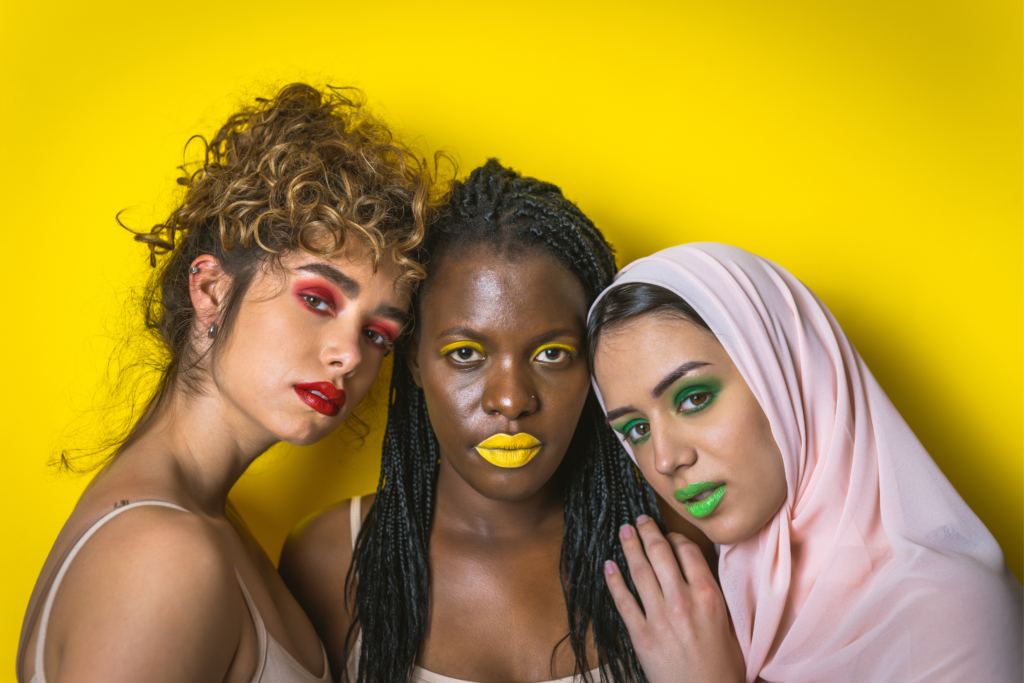 Brands of the future can no longer ignore this clamor but, at the same time, cannot simply resort to "color-washing" or "gender-washing" their products. We can see through that. Brands must continue to evolve or miss out or offend their customer base. Instead of viewing people of different colors, orientations, and generations as disabilities or deficiencies, they must be regarded as co-creators who are re-engineering what should have been there in the first place. Brands must adopt this community and invite them to have a seat at the table. Listen, collaborate, design, develop, and validate. Inclusivity and diversity start in the process of product creation and design. It's no longer – "we heard you, we developed it, here you go, use it."
And as for people like me, celebrate your uniqueness. Don't feel diminished because you are not a particular form or color. At the same time, don't feel you're entitled above the others. We all deserve to be represented and heard regardless of conventional thinking. Demand to have a seat at the table, educate others as much as possible, and cultivate communities and partnerships that breed genuine support and participation. We all have a part to play in this, so take the challenge and treat it as a transformation opportunity that could pave the way for others to realize their full potential and belong to something bigger.
I wish I could return to that moment when I felt I did not matter, living in a foreign land, all by myself. I would tell my younger self – "Go ahead and wear that red dress. You are perfect and beautiful in your own skin."