You've probably heard about podcasts for years, but you may not have realized that they're also a great way to learn about your favorite topic. Podcasts are a medium of communication that is relatively recent but has gained widespread popularity in the past few years. If you're looking for an entertaining and easy way to keep up with what's going on in business news and trends, tuning into a podcast is a great place to stay.
Podcasts are popular because they offer an easy to listen to experience that is:
Convenient: Podcasts are always available and accessible. You can listen while you drive, work out, or do other activities that require your attention to focus elsewhere.
Sharable: The format of podcasts makes them easy to share with friends, colleagues, and family members as an alternative mode of communication that might be more personal than an email or text message (and doesn't rely on their ability to read).
Easy to Find: There is a wide variety of podcasts available on all topics, making it possible for listeners' interests and preferences to be accommodated by this medium.
Usually Free!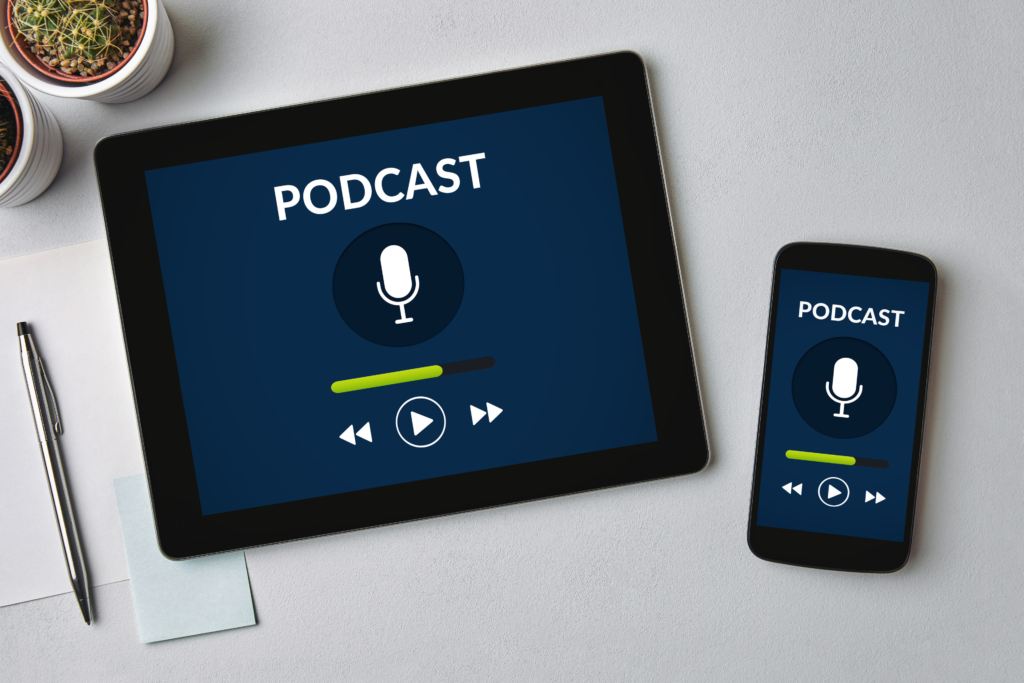 Can you learn business tips from podcasts?
Podcasts are a great way to learn business ideas and tips from some of the biggest names in the industry (and even those who have been around for decades). If you're looking for insight into how successful people work and think, then look no further than these top 10 business podcasts.
You'll gain valuable information about how businesses were started, what challenges were overcome, and the different tools and mindsets successful entrepreneurs and owners use to improve sales and revenues.
1. Planet Money from NPR
Planet Money was launched in 2008 and has been a weekly staple of NPR's programming ever since. It's a podcast about economics, and while it is aimed at the average listener, there are enough references to finance that make this podcast more than suitable for business owners. Hosted by Jacob Goldstein and Stacey Vanek Smith, Planet Money has won several awards for reporting everything from the Great Recession to Bitcoin.
The show usually delves into one topic per episode—think housing markets or health care costs—and it covers subjects from multiple angles, including interviews with experts on different sides of an issue, historical analysis, and experiments designed to answer questions about how something works in real life and provide valuable practical insights.
2. The Tim Ferriss Show
The Tim Ferriss Show is an American podcast hosted by author, entrepreneur, and self-help guru Tim Ferriss. It's a weekly show that features conversations with the world's top performers in various fields, including business, sports, art, and music. The podcast has been called one of the best business podcasts by The New York Times, and it's undoubtedly a favorite among many entrepreneurs and creatives alike.
In this show, you'll learn how to optimize your life to do more of what makes you happy while also achieving your goals. Some of the guests include Arnold Schwarzenegger (bodybuilding champion), Tony Robbins (life coach), Matt Mullenweg (co-founder of WordPress), and plenty more.
3. Motley Fool Money
Motley Fool Money is a podcast from Motley Fool, a financial website and podcast network. The show is hosted by Chris Hill and guests who break down the day's most recent business news, stock market insights, and how to invest in today's marketplace. They offer many varied perspectives and often get into the social implications of regular investing.
4. How I Built This with Guy Raz
How I Built This podcast is hosted by Guy Raz. The show features a new guest every week and interviews them about how they started their business, what challenges they faced along the way, and what lessons they learned.
5. StartUp
StartUp is a podcast about what it's like to start a business. The show follows Alex Blumberg, the former producer for This American Life, as he leaves public radio and starts his own company. Along the way, you'll hear from people who've built companies large and small (including Facebook, Birchbox, and Rent the Runway), academic researchers who study the economics of startups, lawyers who help founders draft their governing documents, scientists working on breakthrough technologies that could be big someday, authors who have written books on startups and venture capitalists investing in new ideas and startups.
6. The GaryVee Audio Experience
Gary Vaynerchuk is a serial entrepreneur, investor, CEO, and New York Times Bestselling Author. He's also an active investor and advisor in technology, food and beverage, sports, and media. In this podcast, you can hear him share his thoughts on business and personal topics like hustle (what it takes to succeed), the future of social media marketing, and family-related challenges facing entrepreneurs today.
7. Smart Passive Income
The Smart Passive Income podcast is hosted by entrepreneur Pat Flynn, who has built multiple online businesses (including an online education company and a freelancer website) that have made millions of dollars.
Pat's podcast provides a wide variety of tips for entrepreneurs, including choosing which platform(s) to use when starting and making your first sale on Amazon or other media.
8. The Indicator
The Indicator is a daily business podcast from a team of economists hosted by Cardiff Business School. It's about how economic trends like inflation and unemployment affect your life and how you can use that information to make better decisions for your career.
The show's format is short interviews with various experts about their research or findings in business. Some are about current events and their effect on markets, while others focus on topics such as artificial intelligence. There's also a weekly news roundup at the end of every episode where they talk about recent developments in business news from around the world.
9. HBR IdeaCast
HBR IdeaCast is a weekly podcast hosted by the editors of Harvard Business Review. Each episode features a conversation with an expert on business, leadership, and innovation. Guests include some of the most well-known authors in management theory and practice to help listeners better understand critical issues facing today's business leaders. If you're looking for practical advice on how to get ahead in your career or find inspiration in another's success story, this podcast has something for you.
10. Goal Digger
Goal Digger is a podcast by Jenna Kutcher, who was once a waitress but now runs an international business. In this podcast, you will learn how to manifest the life you want and live your dreams. She teaches how to find your passion and make your dreams a reality with practical tips and functional systems.
Final Thoughts
If you're looking for something that will keep you entertained while educating you on important topics, these podcasts will be right up your alley. They cover everything from how to start your own business or company to specific industry tips and tricks that can help improve your life. I hope this list has inspired all those interested in learning more about what goes into running a successful enterprise today. So get listening, and you too can gain valuable insight into running your startup in no time!